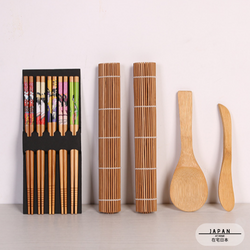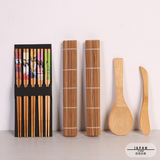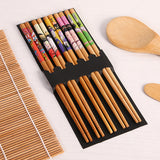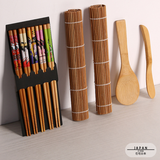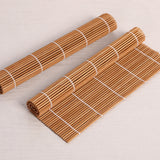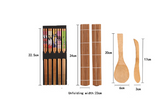 Bamboo Sushi Tool Set 'Japan at Home'
Embrace the Art of Sushi Making
Immerse yourself in the rich tradition of Japanese cuisine with our Bamboo Sushi Tool Set "Japan at Home". This comprehensive set is designed to provide everything you need to create authentic sushi right in your own kitchen. From nigiri to maki, and beyond, this sushi tool set turns any home cook into a sushi master.
Bamboo Chopsticks
Complete your sushi dining experience with our 22.5cm bamboo chopsticks. Crafted with precision and balance, these chopsticks offer a comfortable grip, perfect for savoring your homemade sushi creations or any Japanese delicacy. They're a staple in every Japanese tableware collection.
Durable Sushi Spoon
Our 20x6cm sushi spoon is a versatile tool in any sushi-making endeavor. Whether you're spreading sushi rice on your nori or portioning out ingredients, this sushi spoon ensures every roll is perfectly proportioned.
Precision Sushi Blade
The 17x3cm sushi blade in our set is a sushi chef's dream. This wooden blade ensures clean, smooth cuts for every type of sushi, from maki to nigiri. Experience the precision of a professional Japanese sushi restaurant right in your home kitchen.
Bamboo Sushi Curtain
Master the art of sushi rolling with our 24x22.5cm bamboo sushi curtain. This essential tool helps shape your sushi rolls, ensuring tight, even rolls every time. It's easy to clean and store, making it a practical addition to any sushi-making kit.
Experience the Authenticity of Japanese Sushi
The Bamboo Sushi Tool Set "Japan at Home" is not just a collection of tools, but an invitation to delve into Japanese cooking culture. Whether you're a seasoned sushi chef or a sushi-making novice, this set will guide you on your journey to crafting delectable, restaurant-quality sushi. It's the perfect addition to any Japanese kitchenware collection, blending functionality, authenticity, and elegance in one. Experience the artistry of sushi making with our premium, Japanese-inspired sushi tool set.

Product Category: Kitchen gadget set
Chopsticks: 225CM
Spoon: 20 * 6CM
Sushi blade: 17 * 3CM
Sushi curtain: 24 * 22.5CM
Delivery is free!
We carefully pack your items and ship them within 48 hours.
Our delivery times are generally between 10 and 15 days.
Once your order has been shipped, you will receive an email with a tracking number you can use to follow your order. 
Any item received broken or damaged will be resent at our expense - subject to sending photos of the damaged items as proof. 
This site is 100% secure.

Firstly, the site you are visiting is on an HTTPS server (the little padlock on the left-hand side of the URL on this page is there to remind you of this).

Most sites only secure their "shopping cart" and everything related to checkout. On this site, ALL PAGES are secure and cannot be hacked or targeted by malware.

Finally, all credit card payments are 100% secured by the Stripe platform according to International interbank security measures. Stripe allows you to make your online purchases with complete security and peace of mind.