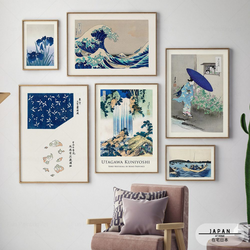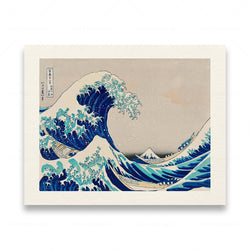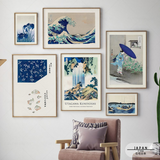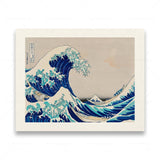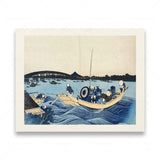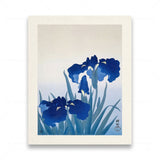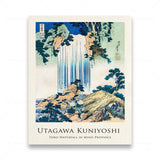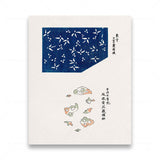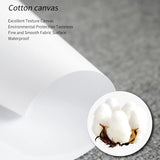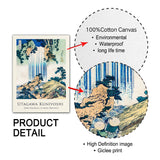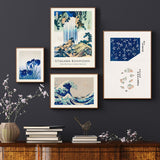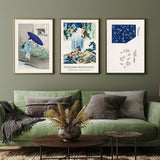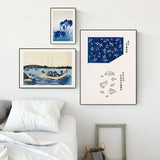 Experience the Timeless Elegance of 'Japanese Ukiyo-e Canvas Art Prints'
Immerse Yourself in Ukiyo-e, a Cherished Japanese Art Form
Ukiyo-e, translating to "pictures of the floating world", is a genre of Japanese art that flourished between the 17th and 19th centuries. This influential movement, characterized by its woodblock prints and paintings, captures the transient beauty of the world, from captivating landscapes to the vibrancy of urban life. Our Japanese Ukiyo-e canvas art prints invite you to delve into this captivating world, right from the comfort of your home.
Iconic Designs Including the Renowned 'Wave of Kanagawa'
Each of our Japanese poster designs narrates a unique story. Among them, you'll find the globally celebrated 'Wave of Kanagawa' by Katsushika Hokusai. This Japanese landscape poster, with its iconic wave set against Mount Fuji, is a timeless representation of the Ukiyo-e art form, making it more than just decor, but a conversation piece that enriches your space. 
Versatile Decorative Wall Posters for Your Unique Style
Whether gracing your living room, bedroom, or study, these Japanese posters add an enchanting touch. Available individually, you can choose the designs that resonate with your personal style, crafting an abstract poster gallery wall that is uniquely yours.
Superior Quality with Durable Materials and Waterproof Ink
Printed on durable canvas with waterproof ink, these Japanese posters promise longevity. Resistant to fading, they retain the vibrant allure of the art, ensuring your home remains a visual treat for years to come.
Embrace the rich cultural heritage and beauty of Japanese art with our Ukiyo-e canvas art print. It's more than just decoration - it's a journey into the heart of Japan's artistic legacy, right from your home.
The posters are delivered without frame. We recommend to buy different sizes to make a nice composition. 
Delivery is free!
We carefully pack your items and ship them within 48 hours.
Our delivery times are generally between 10 and 15 days.
Once your order has been shipped, you will receive an email with a tracking number you can use to follow your order. 
Any item received broken or damaged will be resent at our expense - subject to sending photos of the damaged items as proof. 
This site is 100% secure.

Firstly, the site you are visiting is on an HTTPS server (the little padlock on the left-hand side of the URL on this page is there to remind you of this).

Most sites only secure their "shopping cart" and everything related to checkout. On this site, ALL PAGES are secure and cannot be hacked or targeted by malware.

Finally, all credit card payments are 100% secured by the Stripe platform according to International interbank security measures. Stripe allows you to make your online purchases with complete security and peace of mind.