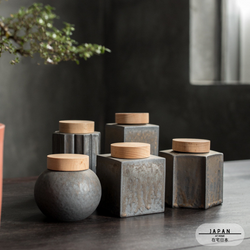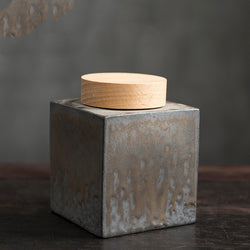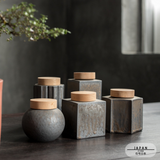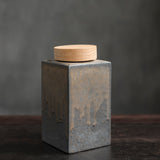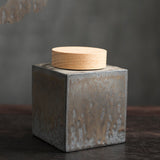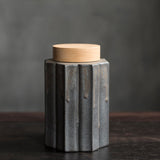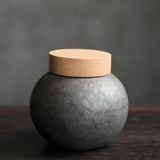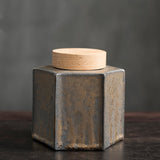 Elevate Your Tea Ritual with the "Kanazawa" Geometric Tea Caddy
Tea is more than just a beverage; it's an art form. And every art form deserves its masterpiece. The "Kanazawa" Geometric Tea Caddy stands as that masterpiece for tea enthusiasts.
Premium Ceramic Craftsmanship: Durability Meets Elegance
The ceramic used for the "Kanazawa" tea caddy is nothing short of exceptional. It combines sturdiness with a delicate touch, ensuring longevity without compromising on aesthetics. The colored glaze adds a layer of sophistication, making each caddy a unique piece of art.
Geometric Design: A Fusion of Tradition and Modernity
The geometric shapes, paired with gilded finishes, transform this tea caddy into a work of art. Whether hexagonal, square, round, or polygonal, each design perfectly mirrors the harmony between traditional Chinese influences and contemporary flair.
Optimal Preservation: For Ever-Fresh Tea
Measuring 9.5 cm in length and 8.5 cm in width, the "Kanazawa" tea caddy is designed to store your tea under optimal conditions, shielding it from air and moisture, ensuring that every brew is as fresh as the first.
Aesthetic and Functionality Combined
The intricate patterns and designs aren't just for show. They reflect a deep appreciation for the tea culture, ensuring that while your tea remains fresh, it's also stored in a caddy that's a conversation starter.
Key Features for an Informed Choice:
Top-tier Material: Crafted from premium ceramic.
Distinctive Design: Original patterns and motifs.

Thoughtful Packaging: Elegantly boxed.

Color Palette: A variety of gilded finishes (each one is unique).
Contents: Tea Caddy x1
For tea aficionados looking to blend tradition with a touch of modernity, the "Kanazawa" Geometric Tea Caddy is an indispensable accessory. A centerpiece for every tea ceremony, it's not just a storage solution—it's an experience.
Delivery is free!
We carefully pack your items and ship them within 48 hours.
Our delivery times are generally between 10 and 15 days.
Once your order has been shipped, you will receive an email with a tracking number you can use to follow your order. 
Any item received broken or damaged will be resent at our expense - subject to sending photos of the damaged items as proof. 
This site is 100% secure.

Firstly, the site you are visiting is on an HTTPS server (the little padlock on the left-hand side of the URL on this page is there to remind you of this).

Most sites only secure their "shopping cart" and everything related to checkout. On this site, ALL PAGES are secure and cannot be hacked or targeted by malware.

Finally, all credit card payments are 100% secured by the Stripe platform according to International interbank security measures. Stripe allows you to make your online purchases with complete security and peace of mind.