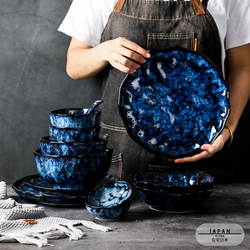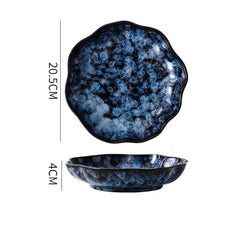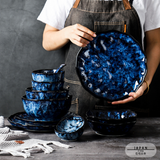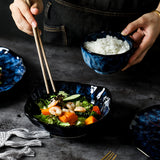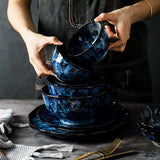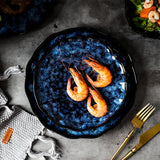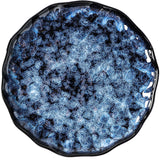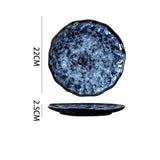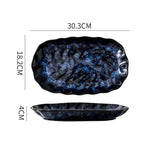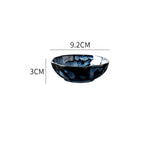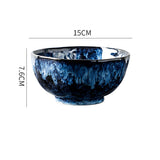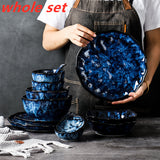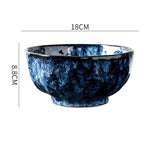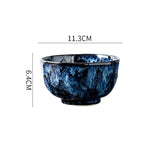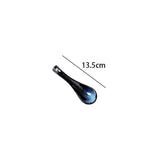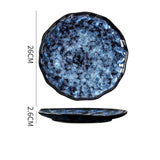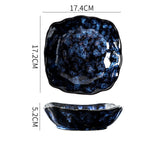 Discover the mystical charm of the "Mahōtsukai" Japanese Tableware
Our "Mahōtsukai" collection of Japanese tableware transports your dining table into a realm of enchantment and refinement. Crafted from exquisite ceramics, each piece stands out with its smooth, round surface, irregular shapes, and deep blue color, invoking the vastness of nighttime oceans.
A Complete Set for All Your Culinary Desires
The "Mahōtsukai" collection comprises a complete set of tableware to cater to all your culinary desires. Whether it's a serving of rice, a comforting soup, a fresh salad, a bowl of noodles, or even for serving your condiments, you'll find the perfect plate or bowl for every occasion.
Ingenious Craftsmanship and Detailed Attention
Each piece from the "Mahōtsukai" collection is crafted with ingenuity. Details can be seen everywhere, from the subtle texture of the ceramics to the unique shape of each bowl and plate. The attention to each detail reflects the dedication and expertise of the artisans who make them.
User Comfort and Protection of Your Table
All the pieces from the "Mahōtsukai" collection have a solid, anti-slip bottom. This not only ensures good stability during use, but also protects your table from scratches and marks.
The Meaning of "Mahōtsukai"
"Mahōtsukai" means "wizard" in Japanese, a name choice that reflects the magical effect of this collection on your dining table. Each meal becomes a true enchantment when served with this tableware.
Exceptional Artisanal Tableware
Choosing the "Mahōtsukai" tableware collection is like inviting art and craftsmanship to your dining table. Each piece is unique and bears testament to the art and care given by the artisans in its creation. Enjoy this collection to add a touch of grace and elegance to your meals.
Delivery is free!
We carefully pack your items and ship them within 48 hours.
Our delivery times are generally between 10 and 15 days.
Once your order has been shipped, you will receive an email with a tracking number you can use to follow your order. 
Any item received broken or damaged will be resent at our expense - subject to sending photos of the damaged items as proof. 
This site is 100% secure.

Firstly, the site you are visiting is on an HTTPS server (the little padlock on the left-hand side of the URL on this page is there to remind you of this).

Most sites only secure their "shopping cart" and everything related to checkout. On this site, ALL PAGES are secure and cannot be hacked or targeted by malware.

Finally, all credit card payments are 100% secured by the Stripe platform according to International interbank security measures. Stripe allows you to make your online purchases with complete security and peace of mind.