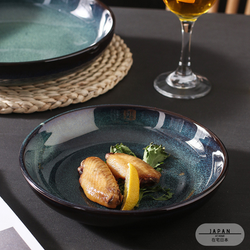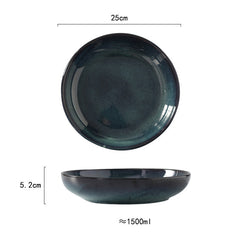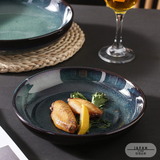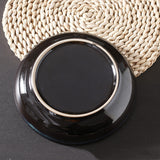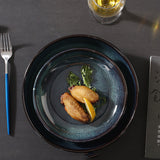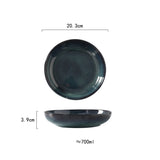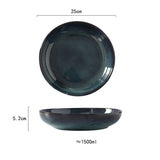 The "Middonaitoburū" Deep Plate: An Elegant Journey with Every Meal
Succumb to a plate that combines elegance and functionality, promising unforgettable culinary experiences. The "Middonaitoburū" deep plate is an invitation to discover refined Japanese aesthetics.
The Radiance of the Midnight Emerald Plate
The "Middonaitoburū" collection, translating to "Midnight Blue" in English, evokes the depth and serenity of Japanese nights. Each plate, with its intense emerald hue, recalls the beauty of oceans under moonlight. These subtle yet captivating shades transform every meal into a unique sensory experience.
Exceptional Japanese Tableware Craftsmanship
Each plate from the "Middonaitoburū" collection is the result of unparalleled artisanal expertise. The delicate yet robust porcelain is highlighted by an underglaze coloring technique, ensuring vibrant and lasting hues. This attention to detail, this passion for craftsmanship, is felt with every bite, every shared moment around this tableware.
The Perfect Roundness of a Deep Plate
The round shape of the "Middonaitoburū" plate pays homage to harmony and balance. It reflects a Japanese aesthetic where every detail matters, where simplicity equates to beauty.
A Plate Designed for Beauty and Function
Beyond its captivating aesthetics, the "Middonaitoburū" deep plate is designed for daily use. It combines refinement and practicality, being both microwaveable and dishwasher safe.
Essential Tableware Information
Material: Porcelain
Shape: Round
Variety: Available in 8 inches and 10 inches, with an emerald green fish head motif.
By choosing "Middonaitoburū", you invite to your table a symphony of tradition, modernity, and refinement, making every meal a moment of exception.
Delivery is free!
We carefully pack your items and ship them within 48 hours.
Our delivery times are generally between 10 and 15 days.
Once your order has been shipped, you will receive an email with a tracking number you can use to follow your order. 
Any item received broken or damaged will be resent at our expense - subject to sending photos of the damaged items as proof. 
This site is 100% secure.

Firstly, the site you are visiting is on an HTTPS server (the little padlock on the left-hand side of the URL on this page is there to remind you of this).

Most sites only secure their "shopping cart" and everything related to checkout. On this site, ALL PAGES are secure and cannot be hacked or targeted by malware.

Finally, all credit card payments are 100% secured by the Stripe platform according to International interbank security measures. Stripe allows you to make your online purchases with complete security and peace of mind.