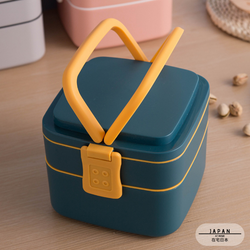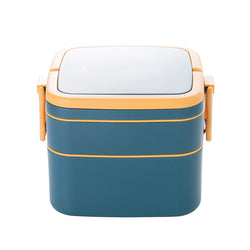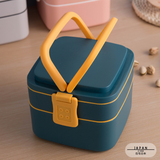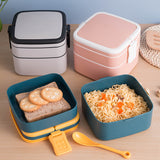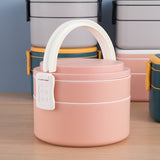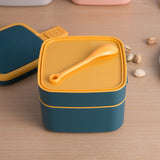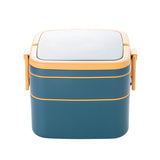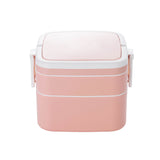 Experience the Authentic Japanese Dining Culture with Our Double-Layer Portable Bento Box
Experience a slice of authentic Japanese dining culture with our double-layer portable bento box. Designed with a modern touch and everyday practicality, this lunch box is a fusion of style, quality, and convenience.
A Nod to Japanese Bento Culture
Our bento box is a tribute to the rich Japanese bento culture that emphasizes balanced, portion-controlled meals presented in an aesthetic manner. Bento is not just a way of packing food; it is an integral part of Japan's culinary heritage that promotes mindful eating and appreciation of food aesthetics.
Exquisite Design with Everyday Functionality
Our bento box features a sleek, modern design with a plain pattern that adds a touch of elegance to your meals. Its double-layer design offers generous space to pack a variety of dishes, making mealtime more exciting.
Superior Quality for Everyday Use
Constructed from durable, high-quality plastic, this lunch box is built to withstand daily use while maintaining its stylish appeal. You can trust the quality and durability of our bento box.
Microwave-Safe for Hassle-free Meal Prep
Our bento box is microwave-safe, allowing you to heat your meals directly in the box. No need to transfer your food to another dish - it's all about making meal preparation easy and efficient.
Portable Convenience with Easy Carry Handles
Designed for mobility, our bento box features a secure lid and convenient carry handles, making it easy to transport your meals wherever you go. It's perfect for work, school, picnics, or simply enjoying a meal at home.
Elevate Your Dining Experience
Invest in our double-layer portable bento box and bring the joy and aesthetics of Japanese dining into your everyday meals. Experience the convenience, style, and cultural richness of a bento lifestyle today!
Delivery is free!
We carefully pack your items and ship them within 48 hours.
Our delivery times are generally between 10 and 15 days.
Once your order has been shipped, you will receive an email with a tracking number you can use to follow your order. 
Any item received broken or damaged will be resent at our expense - subject to sending photos of the damaged items as proof. 
This site is 100% secure.

Firstly, the site you are visiting is on an HTTPS server (the little padlock on the left-hand side of the URL on this page is there to remind you of this).

Most sites only secure their "shopping cart" and everything related to checkout. On this site, ALL PAGES are secure and cannot be hacked or targeted by malware.

Finally, all credit card payments are 100% secured by the Stripe platform according to International interbank security measures. Stripe allows you to make your online purchases with complete security and peace of mind.