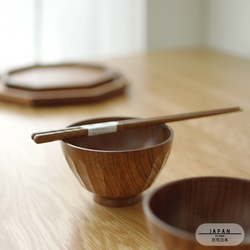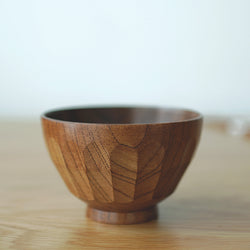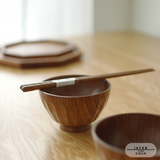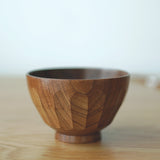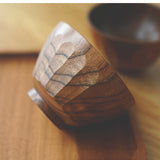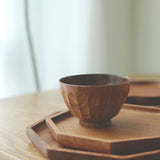 Discover the Timeless Elegance of the "Ōryōki" Wooden Bowl
Japanese table art is renowned for its simplicity, refinement, and respect for nature. The "Ōryōki" wooden bowl perfectly embodies this philosophy, offering both an authentic and modern culinary experience.
A Noble Material: Jujube Wood
Jujube wood, known for its robustness and natural beauty, is the chosen material for this bowl. Its soft texture and distinctive grain bring a touch of authenticity to every meal.
The Art of Grand Lacquering
The grand lacquering technique used to finish this bowl not only protects and makes it durable but also imparts a subtle shine that highlights the natural beauty of the wood.
Ideal Size and Capacity
With dimensions of 11*7cm and a capacity of 250-300ml, this bowl is perfect for serving a variety of dishes, from soups to cereals to salads.
Minimalist Design for a Streamlined Table
The "Ōryōki" design, meaning "just right" in Japanese, reflects a minimalist approach to dining. This bowl, with its simple and clean design, encourages mindful and appreciated eating.
Product Practical Information
Material: Jujube wood
Technique: Grand lacquering
Dimensions: 11*7cm
Capacity: 250-300ml
Package Contents: Bowl*1
By choosing the "Ōryōki" wooden bowl, you're opting for a piece of tableware that combines tradition, functionality, and aesthetics. A true treasure for all lovers of Japanese design and beautiful dining.
Delivery is free!
We carefully pack your items and ship them within 48 hours.
Our delivery times are generally between 10 and 15 days.
Once your order has been shipped, you will receive an email with a tracking number you can use to follow your order. 
Any item received broken or damaged will be resent at our expense - subject to sending photos of the damaged items as proof. 
This site is 100% secure.

Firstly, the site you are visiting is on an HTTPS server (the little padlock on the left-hand side of the URL on this page is there to remind you of this).

Most sites only secure their "shopping cart" and everything related to checkout. On this site, ALL PAGES are secure and cannot be hacked or targeted by malware.

Finally, all credit card payments are 100% secured by the Stripe platform according to International interbank security measures. Stripe allows you to make your online purchases with complete security and peace of mind.