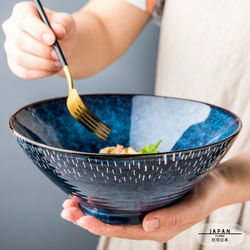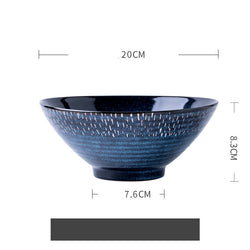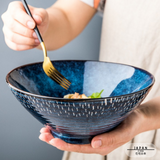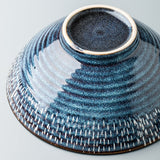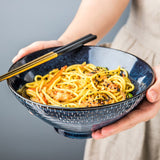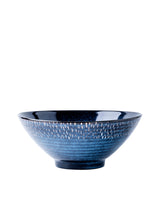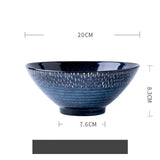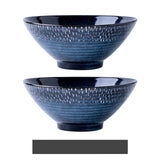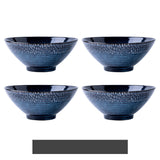 Discover the Japanese "Miyasato" Ramen Bowl, a True Symbol of Japanese Lifestyle
A Classic of Japanese Cuisine
Enjoy your favorite ramens in our "Miyasato" ramen bowl. Made from porcelain with a beautiful gradient blue finish, it embodies the elegance and refinement of Japanese cuisine. Its diameter of 20 cm (8 inches) is perfect for holding a generous serving of your favorite noodles.
Thoughtful Finishes for an Unforgettable Gastronomic Experience
The meticulous finishes of the "Miyasato" bowl add a touch of exclusivity to your meals. The thread pattern recalls the subtlety and sophistication of Japanese craftsmanship. Allow the beauty of this bowl to enhance your meals and create a peaceful and harmonious atmosphere at your table.
High-Quality Porcelain for Exceptional Durability
The "Miyasato" ramen bowl is made of high-quality porcelain, guaranteeing remarkable robustness and durability. It withstands heat and shocks, making it a perfect choice for daily use.
The "Miyasato" Bowl: An Ode to the Japanese Art of Dining
Inspired by Nordic aesthetics and Japanese craftsmanship, the "Miyasato" ramen bowls combine modernity and tradition. It is more than just a bowl, it's a true symbol of Japanese gastronomy, inviting you to relax and contemplate.
A Collection to Discover and Savor
"Miyasato" is available in three configurations to meet all needs: a simple 20 cm bowl, a set of two bowls, and a set of four bowls. Whatever option you choose, "Miyasato" promises to transform your meals into a true moment of delight.
A Use Suitable for Modern Habits
The "Miyasato" ramen bowl is an essential accessory for any lover of Japanese cuisine. It is suitable for personal use or as a gift. Finally, its maintenance is made easier by its compatibility with the dishwasher and microwave.
Give a new dimension to your meals with the "Miyasato" ramen bowl, a centerpiece that combines functionality and aesthetics, for a complete immersion in Japanese culture.
Delivery is free!
We carefully pack your items and ship them within 48 hours.
Our delivery times are generally between 10 and 15 days.
Once your order has been shipped, you will receive an email with a tracking number you can use to follow your order. 
Any item received broken or damaged will be resent at our expense - subject to sending photos of the damaged items as proof. 
This site is 100% secure.

Firstly, the site you are visiting is on an HTTPS server (the little padlock on the left-hand side of the URL on this page is there to remind you of this).

Most sites only secure their "shopping cart" and everything related to checkout. On this site, ALL PAGES are secure and cannot be hacked or targeted by malware.

Finally, all credit card payments are 100% secured by the Stripe platform according to International interbank security measures. Stripe allows you to make your online purchases with complete security and peace of mind.