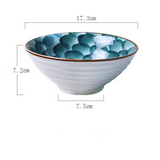 Create a magnificent Japanese dinner set with these beautiful "Yonemura" porcelain bowls. 
Japanese gastronomy calls for Ramen! 
This delicious dish made with noodles and broth is a classic of Japanese cuisine. Would you like to be able to serve this succulent dish in the best setting? Discover our porcelain bowl "Yonemura"!
Made from high-quality ceramic, our bowl is large enough to hold all the broth of your ramen and enjoy it at the optimum temperature! Moreover, the design of each bowl is unique and typical of the bowls used in Japan.
A whole range of variations is available just for you! You are sure to find the item that best suits your taste of the moment so don't wait any longer! Invite Japan to your table!
Porcelain
H17,3x7,2x7,3cm
Colour: White and Green
Delivery is free!
We carefully pack your items and ship them within 48 hours.
Our delivery times are generally between 10 and 15 days.
Once your order has been shipped, you will receive an email with a tracking number you can use to follow your order. 
Any item received broken or damaged will be resent at our expense - subject to sending photos of the damaged items as proof. 
This site is 100% secure.

Firstly, the site you are visiting is on an HTTPS server (the little padlock on the left-hand side of the URL on this page is there to remind you of this).

Most sites only secure their "shopping cart" and everything related to checkout. On this site, ALL PAGES are secure and cannot be hacked or targeted by malware.

Finally, all credit card payments are 100% secured by the Stripe platform according to International interbank security measures. Stripe allows you to make your online purchases with complete security and peace of mind.