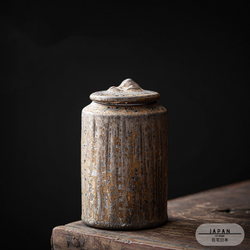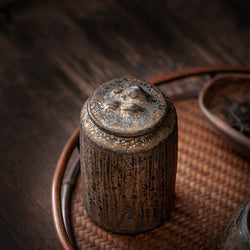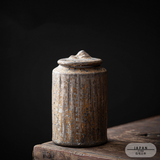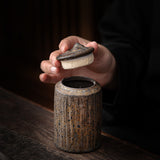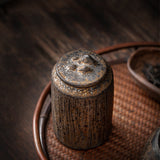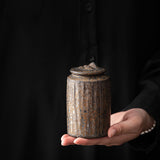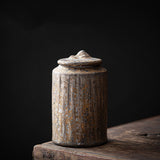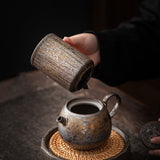 "Yudaki" Tea Pot: The Essence of Traditional Tea Craftsmanship in a Timeless Design
Tea is a celebration, a moment of relaxation, a break from the hustle and bustle of daily life. To honor this tradition, having the right equipment is essential. The "Yudaki" tea pot perfectly embodies this philosophy.
Exceptional Ceramic for an Unparalleled Tea Pot
Ceramic, a noble and durable material, is at the heart of the "Yudaki" tea pot's design. It not only guarantees unmatched durability but also an elegance that transcends time. The kiln-changing glaze technology adds a unique touch to each pot, making your tea pot a one-of-a-kind art piece.
Design Inspired by Tradition
The rust color, combined with an aged effect, evokes the ancient Japanese traditions of tea ceremonies. This tea pot doesn't just store your precious brew; it tells a story, that of a millennia-old tradition.
Preservation and Freshness: The Winning Duo
The "Yudaki" tea pot is designed to maintain the freshness and aroma of your tea. Its ceramic construction provides optimal insulation, ensuring that every cup of tea you brew is as fragrant and delightful as possible.
Versatility and Practicality for Everyday Use
Whether you're a fan of green, black, white, or oolong tea, the "Yudaki" tea pot is your ally. Its capacity and sturdiness make it the perfect companion for all your tea tasting sessions.
Why Choose the "Yudaki" Tea Pot?
Material of choice: Superior quality ceramic ensures uncompromised longevity and aesthetics.

Advanced technology: The kiln-changing glaze gives each pot a unique finish.

Timeless design: The rust color and aged effect bring an authentic touch to your table.
By choosing the "Yudaki" tea pot, you're opting for a piece that combines tradition, functionality, and aesthetics. It's more than just an accessory; it's an invitation to celebrate the art and culture of tea.
Delivery is free!
We carefully pack your items and ship them within 48 hours.
Our delivery times are generally between 10 and 15 days.
Once your order has been shipped, you will receive an email with a tracking number you can use to follow your order. 
Any item received broken or damaged will be resent at our expense - subject to sending photos of the damaged items as proof. 
This site is 100% secure.

Firstly, the site you are visiting is on an HTTPS server (the little padlock on the left-hand side of the URL on this page is there to remind you of this).

Most sites only secure their "shopping cart" and everything related to checkout. On this site, ALL PAGES are secure and cannot be hacked or targeted by malware.

Finally, all credit card payments are 100% secured by the Stripe platform according to International interbank security measures. Stripe allows you to make your online purchases with complete security and peace of mind.