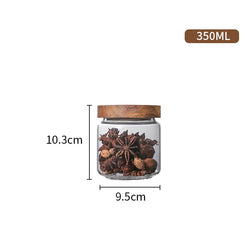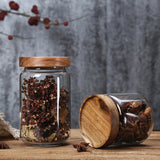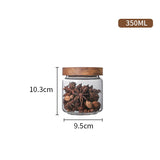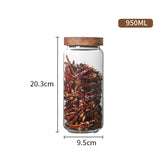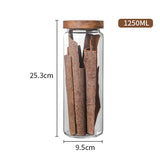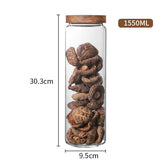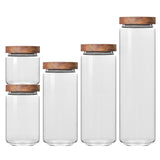 Create a beautiful set of reusable and stylish glass jars for food storage - japanese style!
A designer glass.
The main advantages of this jar can be summarized in two words: japandi and glass. Indeed, glass is harmless for the environment, infinitely reusable, recyclable and does not release any toxic product! This jar is therefore the healthiest product (for you and the environment!) to preserve all your food.

Aren't you fed up with plastic bags, flour or pasta bags that you find empty when you want to use them? Do you like paying for packaging and more packaging, harmful to the environment and your wallet? These "Akashia" glass jars allow you to overcome these problems.
A practical conservation jar because it is transparent and reusable
For a zero waste conservation, these "Akashia" jars are the food containers to choose for your kitchen. For shopping in bulk or storing food, pasta and spices in the kitchen with elegance, this jar is the ecological choice par excellence for your kitchen.

Acacia wood is anti-corrosion and has natural "insecticide" properties that are harmless to humans.
A perfect storage jar for your kitchen
These jars with lids look good and can also be used to decorate your kitchen.
Available in 5 sizes - allowing you to store all types of food
The combination of natural acacia wood and light, transparent borosilicate glass makes this jar stronger than average and, above all, more elegant.

These glass jars from 350 to 1550 ml can be sold in sets of five (the complete collection) or individually.
Delivery is free!
We carefully pack your items and ship them within 48 hours.
Our delivery times are generally between 10 and 15 days.
Once your order has been shipped, you will receive an email with a tracking number you can use to follow your order. 
Any item received broken or damaged will be resent at our expense - subject to sending photos of the damaged items as proof. 
This site is 100% secure.

Firstly, the site you are visiting is on an HTTPS server (the little padlock on the left-hand side of the URL on this page is there to remind you of this).

Most sites only secure their "shopping cart" and everything related to checkout. On this site, ALL PAGES are secure and cannot be hacked or targeted by malware.

Finally, all credit card payments are 100% secured by the Stripe platform according to International interbank security measures. Stripe allows you to make your online purchases with complete security and peace of mind.